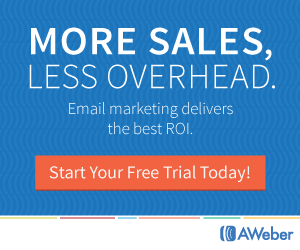 If you only need the simple services of an autoresponder such as sending a single message to reassure your customers about you are getting back to them, you can use the free email autoresponder software that come as a package deal with your web hosting services.
Setting it up may vary from one web hosting company to another, but usually it only involves going to the web host's control panel to do it.
If you want to send more than one email or if you need to send scheduled messages that will be sent at scheduled intervals for a certain period of time, you need to program your mail system on your domain or might as well use the free autoresponder systems available.
I have two personal favourites of these email autoresponders: GetResponse and Aweber.
GetResponse has two versions that you can sign up for. One is the free version that allows them to post ads on your messages and another type is the paid version which provides the entire range of services that GetResponse can offer without they post ads on your messages.
I would recommend that you use the paid version as it is only $12-18 a month (depending which payplan you use) and it offers more professional services for your business. You have to know that building your list is the best long term business initiative you can take to be successful in this industry.
You can visit the websites below for more details :
Find out more about an other great online marketing tool : Video Submission Software
"Thanks for visiting Empowered Online Entrepreneurs! I really hope this information was helpful for you. I'll be posting more online marketing and mlm tips on my blog at the home page. I'd love to have you as a friend, so claim your free subscription to this blog by leaving your first name and email address and I'll send you an email each time I do a new post."